The Inexpensive, Popular Choice For All
At Shawfield Doors we are proud to bring you our popular best-sellers: our own range of louvre doors. Internal louvre doors are a timeless, versatile choice for many homeowners, used for a number of purposes throughout the home.
Wardrobes, kitchen cupboard doors, airing cupboards, and boiler houses: all are suitable uses for these great doors with slats. Our louvre doors are all designed and supplied by us, bringing you all the quality and affordability our customers know and love.
Our Best-Selling Premium Louvre Doors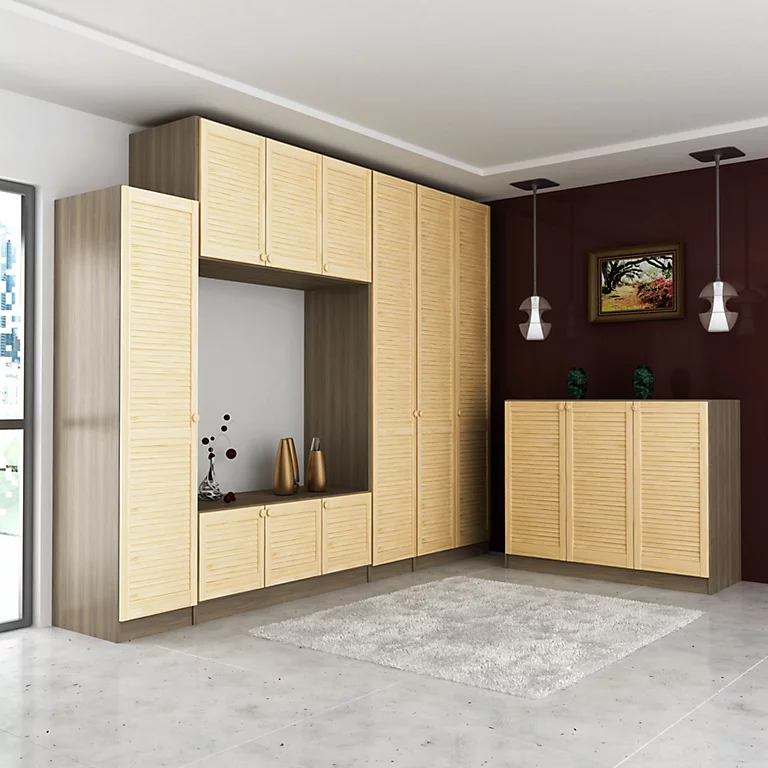 Frequently Asked Questions
What is a louvre door?
A louvre door (American English use "Louver door") is a blind or shutter with horizontal slats that are angled to allow light and air. We commonly like to call louvre doors 'the doors with slats'! The angle of the slats are usually fixed and modern louvres are often made from pine wood. The popularity of louvre doors has increased in recent years as more people incorporate them into their homes due to their low cost and versatile look, they can be used almost anywhere in the home.
Why do some louvre doors have a support bar?
Some of our larger louvre doors have an additional middle support bar to maximise the stability of the door and ensure your doors are built to last. Support bars feature on our louvre doors 72" tall and above.
Do you supply made to measure louvre doors?
We stock a large range of sizes to suit most needs. We no longer off a made to measure service. If you would like to know more about which available sizes would be best suited for your measurements, contact us today.
How do you install louvre doors?
The appeal of louvre doors is that they are affordable and even easier to install. Louvre doors require flush or barrel hinges for fitting, and both are very easy to install. Follow our standard hinge installation guidelines for this process.
What hinges should I use for my louvres?
We recommend 2 x 63mm zinc plated flush hinges with all louvre doors up to H 1676mm (66″) and 3 x 63mm zinc plated flush hinges with all louvre doors on or above H 1676mm (66″).
How do I keep my louvre doors clean?
Due to their multiple slats, louvre doors can accumulate a little bit of dust and dirt over time. The easy way to clean louvre doors is with a feather duster or cloth. You can clean stubborn dirt between slats by putting an old sock or rag on a ruler, bread knife or similar shaped item (make sure it doesn't have a sharp edge). A finished louvre door will have extra protection against any soap and water should you decide to use a little for more stubborn grime.
Can my louvre doors from Shawfield Doors be used outside?
Many doors can be suited for external use if given the correct treatment. Louvre doors make great choices for external door shutters, however our louvre door range is supplied primarily for internal use. If being used for external use, additional treatment by the customer will be required.
What kind of louvre doors should I buy?
We offer Pine only louvre doors.  The pine louvre doors can be finished to your own personal preferences whether stained or painted to your desired colour as they come completely unfinished to let you decide.
It's always satisfying when you can install your own doors, and we have all the answers you need for installing your new doors. Installing louvre doors doesn't have to be difficult – in fact, the process is more simple than you may expect. If you are familiar with standard door hinge installation and fitting then you will be good to go. 
For beginners, some valuable tips to follow would be:
Take three measurements of the door opening (top, middle, bottom) to ensure you are working with the right sizes.

Leave a 2-3mm space around the door to allow for movement and the hinges.

Always use flush door hinges for your louvre doors. Our louvre doors are supplied with these at purchase.

Louvre doors above 66" in height will need 3 hinges.
Our full guide to installing your new louvre doors can be found here.
All louvre doors we sell are designed and made by Shawfield Timber. Shawfield Timber is a leading supplier to the joinery trade across the central belt of Scotland.
Established for over 40 years they offer a complete service to joinery specialists with wood products, flooring, and hardware. With this experience you can be sure that the doors you choose are made to last and of the quality you would expect from a well-established brand.
Unfinished louvre doors are perfect for those who like a natural wood finish to their doors. They will need to be treated yourself in Osmo oil, varnish, or paint to be protected from wear and tear in the home. 
Our white primed louvre doors are ready to install from purchase. White louvre doors remain a popular choice in any home, their colouration brightening up any room they are added to. They can be repainted to suit any wardrobe or closet too, meaning that you have not only a great ready-to-install option, but one that can be customised later too.
Our louvre doors are engineered products made from medium density fibreboard. The surfaces are smooth and easy to paint, giving you the option to customise your doors as you see fit. They are sturdy and built to last in the home. These doors have slats, and they are fitted at an angle in the door's frame to maintain privacy while allowing air to be vented through.
Louvre doors that are 72" tall and above are manufactured with an additional middle support bar to ensure your doors remain strong and in shape.
The great thing about louvre doors is that they can be used throughout the home for a variety of different solutions. The most popular uses of louvre doors are:
Bedroom wardrobes

Kitchen cupboards

Bathroom cabinets and cupboards

Airing cupboards

Boiler houses

Storage cabinets and wardrobes
Our doors are covered by manufacturer warranty for a period of 10 years from the date of purchase. During the warranty period we exchange or refund any door that is proven to have a material or manufacturing fault.
In the unlikely event of a warranty claim becoming necessary, please contact us immediately and provide the following details:
Your name, address and telephone number
Original invoice with date of purchase
Product description, door type
Description of defect
Photographic evidence
Find Out More About Our Louvre Doors
Have we caught your interest in home DIY and our full range of internal doors for sale in Glasgow? If we have, why not take a look into our blog? We regularly update with our latest and greatest information on all things doors, interior design, and some updates from our store that you won't want to miss out on. You may even find some great new deals, too.
Get the latest hints and tips from the experts on internal and external doors for sale at Shawfield Doors. You won't want to miss it.