Folding Doors
Effortlessly change the look and feel of your room with our range of bifold internal doors. They are the easy way to maintain your privacy while saving space. Open up your room to even more design possibilities. These doors are able to be used throughout the home both internally and externally and are the door of choice for anybody looking for an easy to install, space-saving option.
Open up your home and light up the room with these great doors delivered direct from our Glasgow warehouse.
Do you realise how easy it can be to install a Bifold Door?
We have found an excellent video (credit to Steves & Sons) on YouTube.
All you need is the Bifold door, our doors are the exact ones used in the video with the parts included, check them out

SAVE £££ & Time
BiFold Track Installation Guide
How to Fit a BiFold Door
Most modern homes will now feature bifolding doors as they are a popular choice for interior designers. An internal bifold door operates by folding and sliding along a track and is perfect for small spaces like closets, cupboards or bathrooms. However, fitting a bifold door can sometimes become a frustrating task when attaching and adjusting the hardware such as the pivots and hinges. Bifolding doors are still desirable due to being cost effective and space saving.
Bifold door installation can be completed within an hour without much difficulty, however it does require some care and attention.
You must first remove the old door and track then repair the door opening, such as painting and filling the screw holes. Next, you have to measure the frame opening to determine what bifold door you need to purchase. Bifold doors are made undersized to fit the door opening and allow for operation. The actual door dimensions can be found in the product description. Standard bifold door sizes for the opening include:
1981mm x 686mm x 35mm (78″ x 27″)
1981mm x 762mm x 35mm (78″ x 30″)
1981mm x 838mm x 35mm (78″ x 33″)
2032mm x 813mm x 35mm (80″ x 32″)
2040mm x 726mm x 40mm (80″ x 28.5″)
2040mm x 826mm x 40mm (80″ x 32.5″)
Simply measure the door opening and find the bifold door suitable to fit the opening size. Before fitting anything make sure you have all the tools and hardware ready and have correctly measured the door frame. If you are unsure how to measure a frame opening follow our guide: How to Measure Interior Door Opening.
Installing the Bifold Door Track
If you have purchased one of our White BiFold Doors you will need to purchase your door track separately. Cutting or trimming is not recommended as most bifolds have a hollow core, trimming could expose the core. Make sure your doors have been finished with paint or oil (if desired) before beginning to hang, do not install handles until after it has been hung.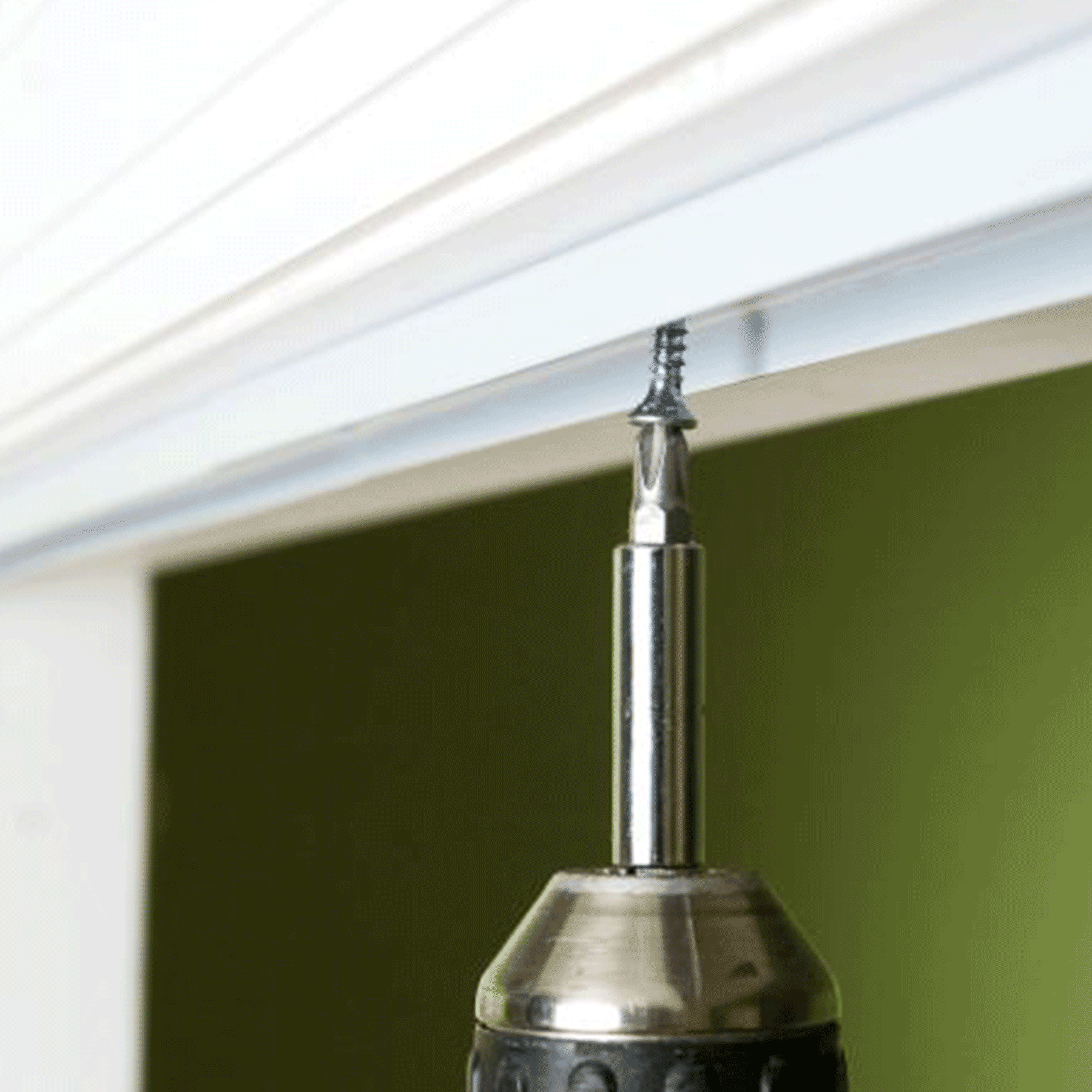 Step 1: Install Track
Ensure the track is flush and centred within the door frame. The pivot bracket should be positioned at the side of the frame that will be used for opening direction. There should be a small gap of upto 2mm on each end of the track inside the door frame.
Using the screw holes in the track mark the location of the pivot points with a pencil. Then pilot drill the positions to secure the bifold door track in place.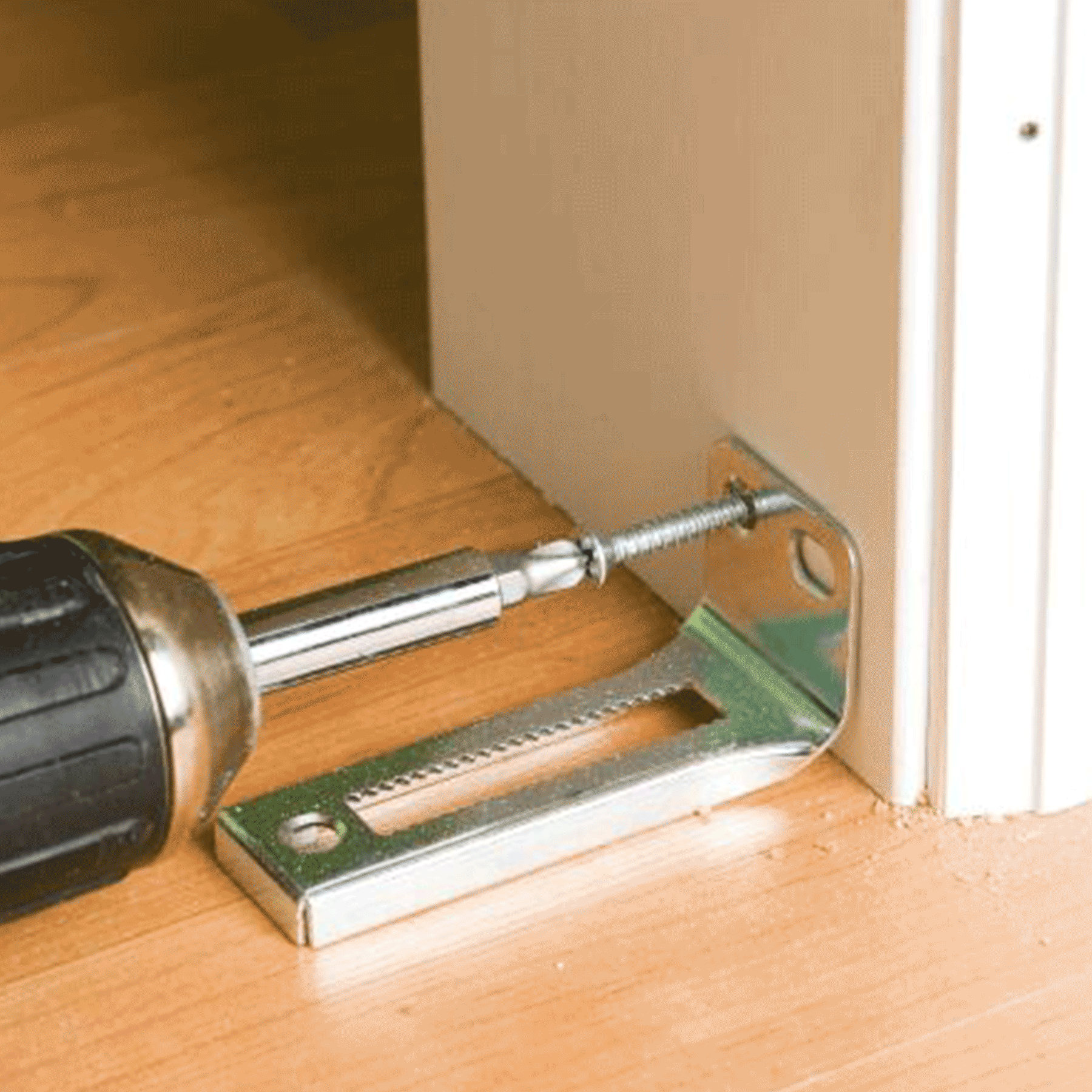 Step 2: Install Bottom Pivot Bracket
Measure and mark downwards the door height you purchased. Pencil mark inside 20mm from the outside of the frame. This is where the bottom pivot bracket will be installed.  Secure in place then slot the plastic retainer into the bracket.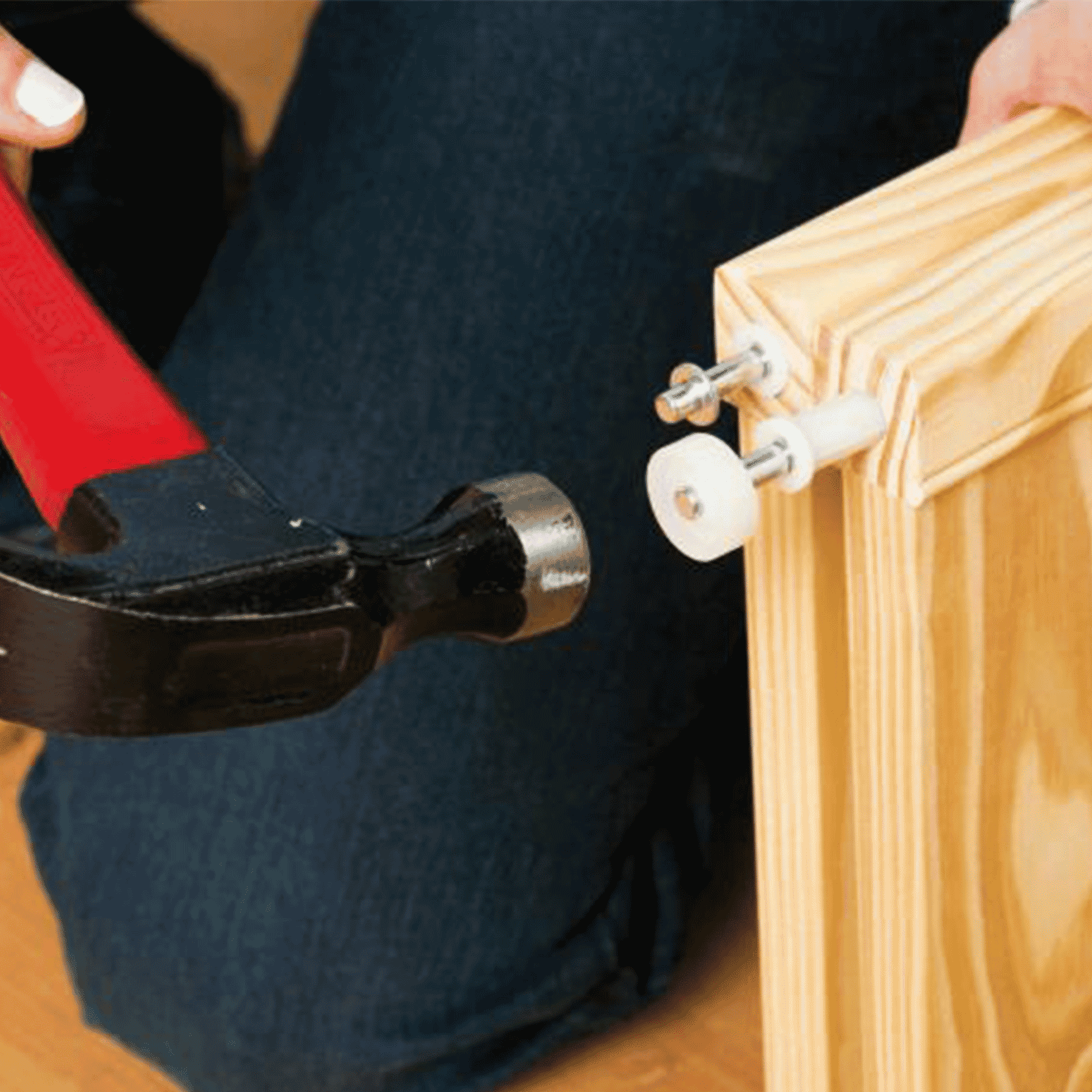 Step 3: Install Top Pin Pivot and Roller
Prop the door up to identify where the top pin pivot and top roller guide will be positioned.
Slot the pivots separately into the drilled holes on the top of the doors using light taps from a mallet or hammer if necessary.
Step 3 Continued:
Install the bottom pivot to the bottom of one door.
Prop the door up to identify where the top pin pivot and top roller guide will be positioned.
Step 4:
Unscrew and release the top pivot in the track and prop the door back up to the opening.
Slot the bottom pivot into the bottom bracket.
Engage the pivots into the track, the door should now slide freely.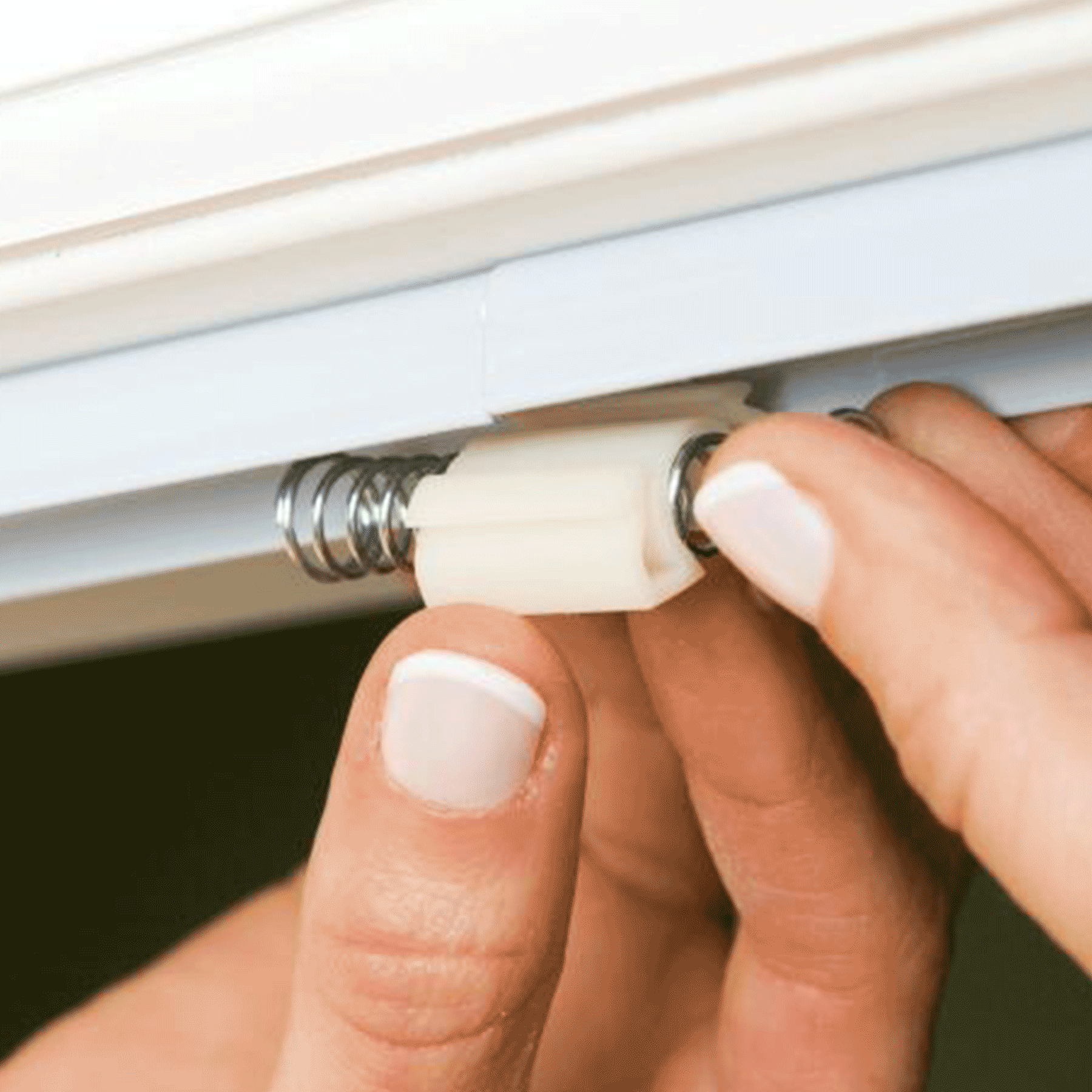 Step 4 Continued:
Slot bottom pivot into the bottom bracket.
Add spring closer at the other side to hold the door closed and allow for spring opening.
The door height can be adjusted using the bottom pivot.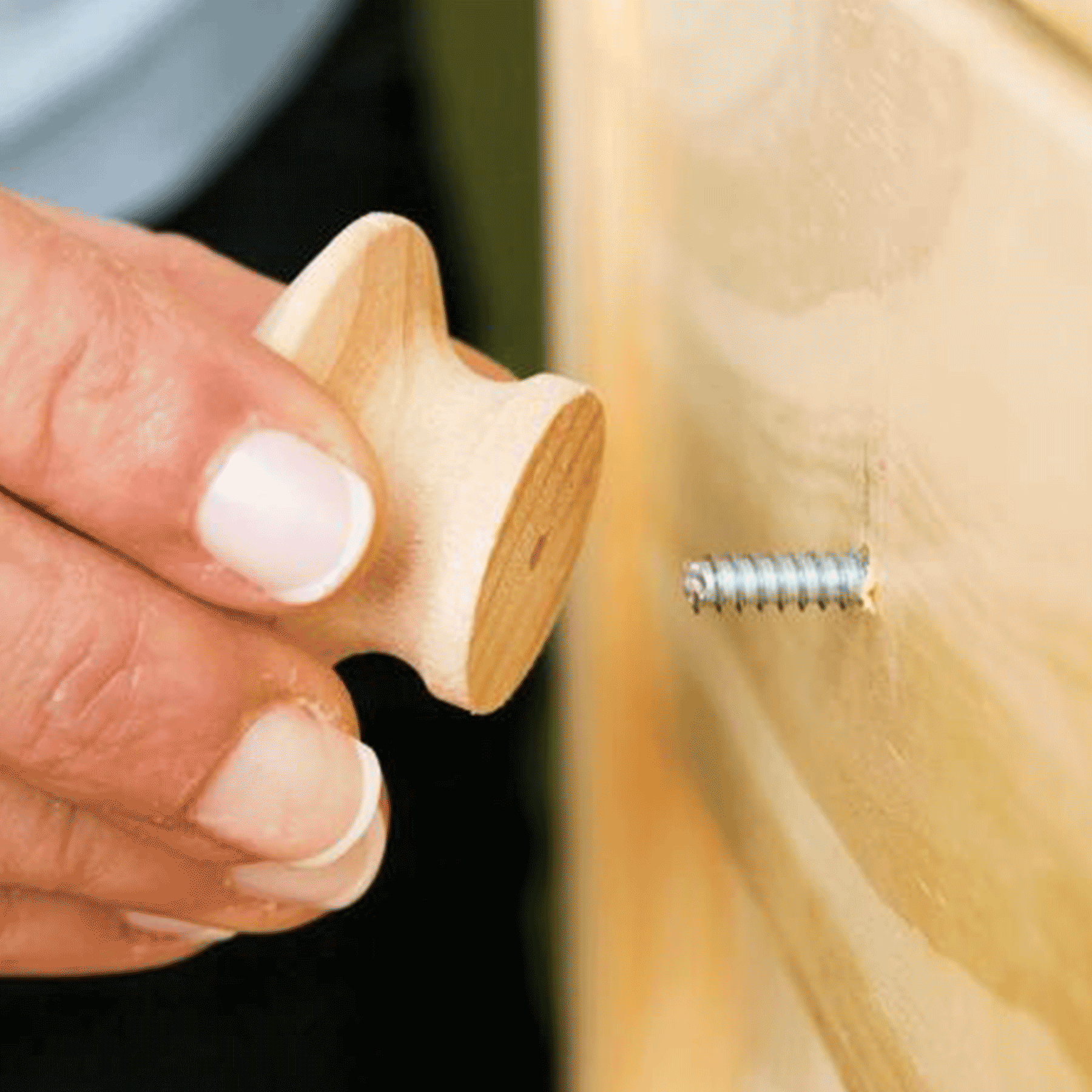 Step 5: Attach Handle
Finally, you can attach your bifold door handle or knob. Drill the screw through and attach the knob, the door should be flush and open/close smoothly. Make any adjustments using the lower pin pivot.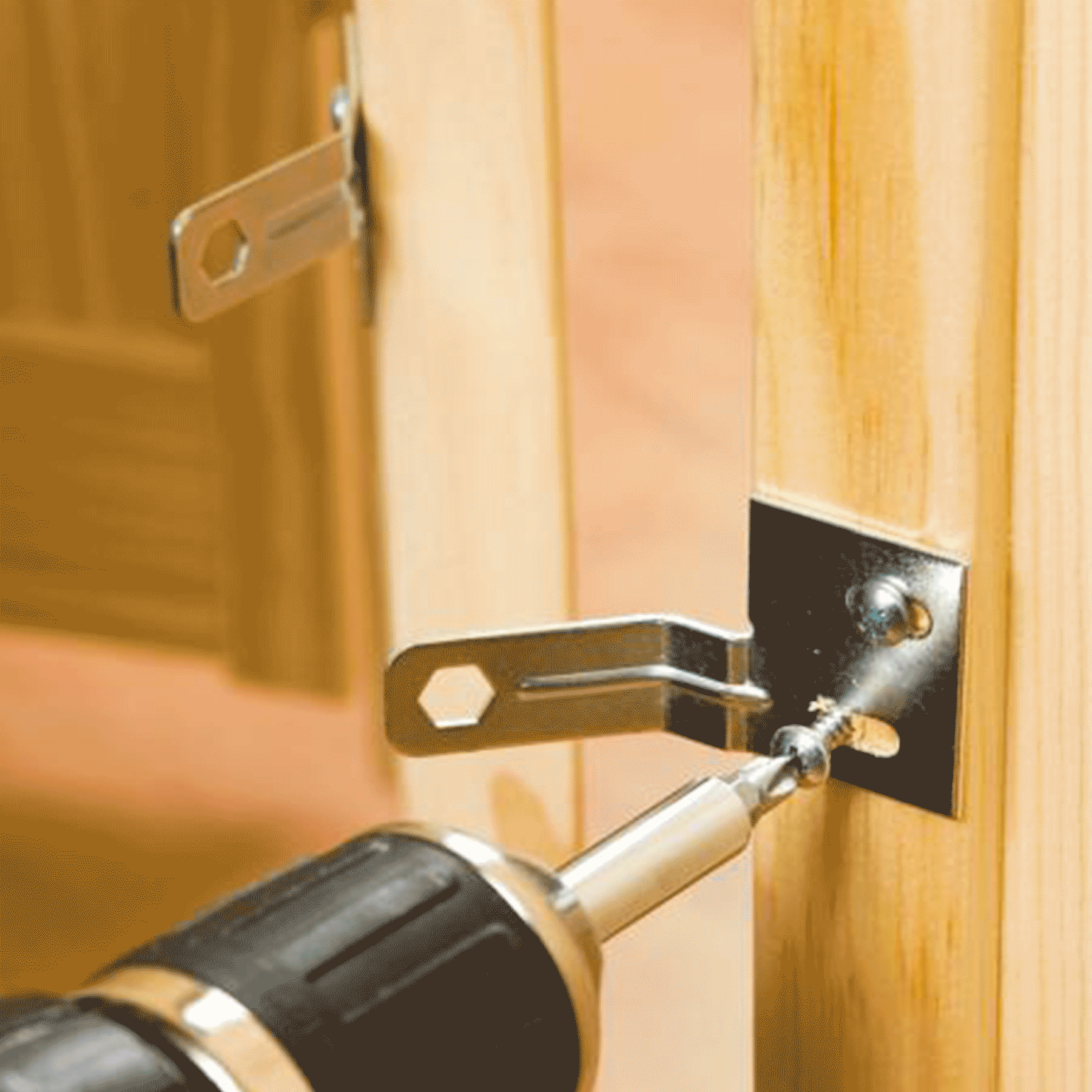 Optional Step 6: Door Alignment Brackets
(Optional) Attach the door alignment brackets on the inside of the door if required. These are only required if you are installing four leaves (multiple bifold doors).
Do you realise how easy it can be to install a Bifold Door?
We have found an excellent video (credit to Steves & Sons) on YouTube.
All you need is the Bifold door, our doors are the exact ones used in the video with the parts included, check them out

How do I fit a bifold door?
We have a great easy to use guide on how to fit a bifold door here. 
What kinds of folding doors are available?
We stock a range of concertina style bifold doors that vary in aesthetic design to suit all your requirements. From solid wood to glazed panels, there's options suited to every customer.
Where can I use bifold doors?
Bifold doors can be used throughout the home and in most smaller living spaces. Taking up less space than a conventional door, bifold doors neatly fold away and allow you to open up your room while also giving the option to maintain your privacy. They can be used everywhere from bedrooms, kitchens, and bathrooms.
Will my bifold doors come with hinges?
Our own white bifold doors conveniently arrive to you with a free track and gear kit. This kit includes a bifold track, 1 x 45mm pine door knob, 3 x 75mm chrome hinges and wood screws. Our other stocked doors do not come with these furnishings.
Can I cut a bifold door to another size?
We do not recommend cutting or trimming most bifold doors as the majority have a hollow core. This would expose the core of the door. You can view our recommended size guidelines here. Contact us if you need further sizing assistance for your purchase.
How do I clean bifold doors?
As with other doors, a clean damp cloth should help get dirt and grime off of your doors. Do not use any rough material that could scrub the finish from your door. Doors with glazed glass panels can be cleaned with any good glass cleaner.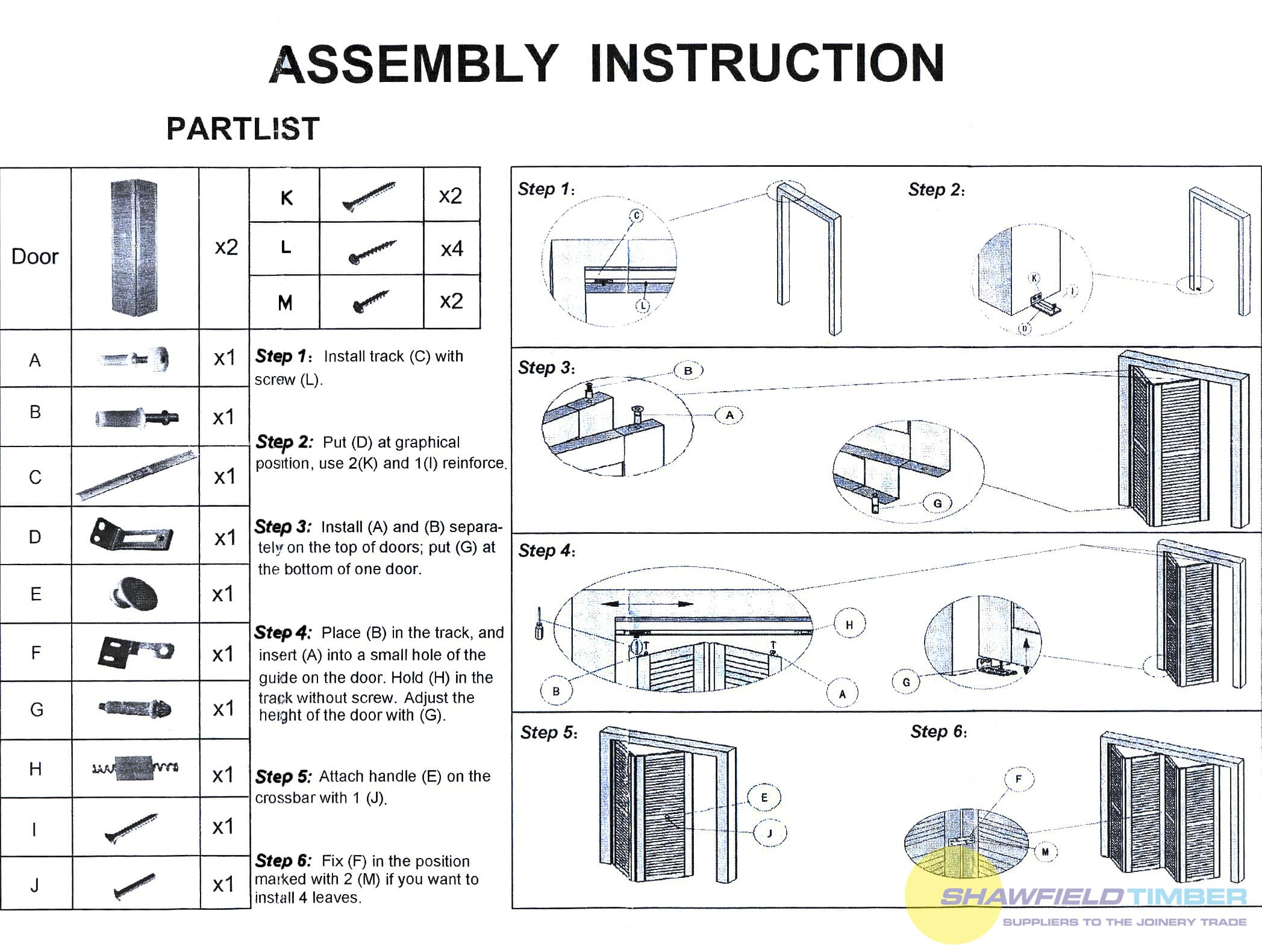 Our available range of folding doors are from some of the UK's leading door manufacturers. Chosen for their quality craftsmanship, durability, and style, you'll be sure to find the bifold doors that are perfect for you right here.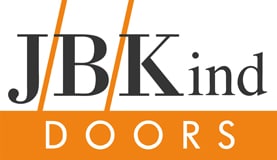 JB Kind are experts in wooden door manufacturing and design with three decades of experience in the market and 140 years as timber specialists.
JB Kind are a leading UK wooden door company selling 250,000 doors every year.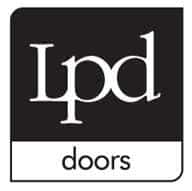 LPD Doors offer the best choice and suit all tastes. Beautifully appealing, trendy and price sensitive. They are leading suppliers and have been distributing doors for 35 years.
If you are looking for something great, Leeds Plywood & Doors promise you can expect more than just a door.

Shawfield Timber are leading suppliers to the joinery trade across the central belt of Scotland.
Established for over 30 years they offer a complete service to joinery specialists with wood products, flooring and hardware.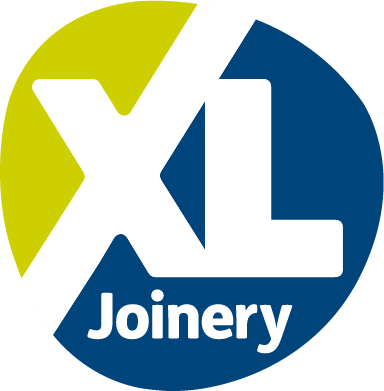 XL Joinery have been helping homeowners change the space they love for over 25 years.
A leading supplier and one of the most respected names in the UK Builders and Retail market, they supply more than 400,000 doors every year.
When choosing your door, one of the most important choices you can make is the finish. Our finished bifold doors for sale have both painted white and natural wood finishes that are already treated to give your doors the protection they need for the daily wear and tear of the home.  
Our range of unfinished bifold doors, on the other hand, are able to be fully customised however you would like with your choice of finish. Our woodgrain doors can be finished with oil, paint, or varnish. Your doors' final look is up to you.
MDF / Engineered
The majority of internal doors for sale are made with medium density fiberboard, or MDF for short. The surface is completely smooth to make for easier finishes such as paint and – as it is a fully engineered product – it is able to boast the ability not to warp as wood does, giving you a long-lasting, stable door.
Hollow core
Our range of hollow core doors tend to be made from plywood or a molded composite skin. These doors are a cheaper alternative to their solid core cousins. This is due to them having a hollow inner panel, meaning that both sound and temperature more easily pass through these doors. 
Solid core
More secure and better for soundproofing, solid core doors have a wood fiber blend that fills them rather than an empty, hollow core.
Different materials can offer various effects for your doors. We are available to offer more advice on your doors – any questions, get in touch!
Oak
One of our most popular choices for doors, oak is a durable and strong wood that stands out as a fantastic choice for a majority of homeowners. This wood is usually used across most door design styles, lending to its popularity.
Pine
An authentic alluring choice, pine adds warmth, character, and comfort to any room it is added to. There are a number of great door designs being manufactured in pine should this be your choice.
Hardwood
If you prefer a more traditional style, hardwood could be the material of choice for you. Hardwood can come in various colours, while also being available to be customised however you would like.
Walnut
A choice of walnut wood for your doors has become much more popular recently and only continues to be included in more and more interior designs. With its sophisticated look and added warmth, it is ideal for homes that are geared more towards a minimalistic, contemporary style.
Choosing the right style of door is important as it can change the entire feel of a room. Many people ignore changing their interior doors as they think that they only serve a function, but the reality is that the wrong doors can skew how a room is viewed, while a beautiful door selected for its style can visually enhance your living spaces. Your door can even be the main focal point of a room – it's up to you how you choose to decorate.
Traditional doors are more formal and predictable in their style, featuring warm, richer tones that are more balanced.
Modern doors often use natural materials to help with their neutral, minimalistic look. They are often clean and unadorned, choosing simplicity over complex design.
Contemporary doors have a softer and more rounded set of characteristics to them. Rather than being bright, they tend to be neutral-toned to maintain a sophisticated edge.
Industrial doors emphasise distressed wooden elements, giving them a mature feel. These are raw vintage designs, and are suited to homes that can benefit from these strong designs.
Colonial doors are defined by their light, neutral tones and symmetrical styles. They are a timeless choice that suit almost every home.
Rustic doors are removed from the polished, 'factory' look of other doors, embracing a more rugged design. They are often more warm and earthy.
Victorian doors would suit homes that enjoy blending gothic aesthetic with their decor. With a bold mix of dark and rich colours, these doors are an exceptional choice for those wanting to make a real statement with their door of choice.
Our doors are covered by manufacturer warranty for a period of 10 years from the date of purchase. During the warranty period we exchange or refund any door that is proven to have a material or manufacturing fault.
In the unlikely event of a warranty claim becoming necessary, please contact us immediately and provide the following details:
Your name, address and telephone number
Original invoice with date of purchase
Product description, door type
Description of defect
Photographic evidence