What To Consider When Buying Internal Doors
A guide for beginners to shopping for the perfect doors.
Starting out with buying new internal doors can feel like a hassle. There's so many options out there that finding just one to settle on feels like an almost impossible task. Information on the internet is always so difficult to find, and sometimes you just need one place to get the answers you need. With this in mind, we thought it would be helpful to create a list of things that you should consider when thinking about investing in new internal doors for your home.
There could be any number of reasons for picking up new doors. We've heard all kinds of stories: doors that just don't suit the new interior design, doors that have gotten worn with age, literal feet through the door – we've really heard it all! Regardless of the reasons behind your purchase, we wanted to create a quick guide to help you find the best doors for your home at even better prices. For the best guide on how to choose your doors, keep on reading!
First and foremost – think about how much you are willing to spend on these home improvements. We all have to start somewhere and with doors it can be easy for us to run away with the budget somewhat (there's just so many we'd like to buy…)! Try to make sure that you have an idea of a realistic budget in mind and consider this often when looking at your design ideas.
We have a filter available for viewing our doors on a sliding price scale so you can take a look at which doors fit in your own price range. Whether you are needing internal doors that won't break the bank or are looking for something that will last a lifetime, we've got all of your requirements covered.
Something that can be overlooked at first is checking the size of doors that you will need. Door shopping would be a lot easier if we could just say 'I'd like to buy a door!' but sadly there is no universal size of doorframe that is used in every building. Taking your frame measurements in every doorway is essential when looking for your new additions. While most doors are manufactured to a range of sizes, not all of them available may fit in your home, and this can be a deal-breaker for most buyers.
It's also important to keep in mind that not every doorway in your home may be exactly the same as each other! Though they look fairly similar, there can be a few millimetres out here and there that can make all the difference when you move on to installing doors. It is true that if your measurements are a little outside of the standard sizes that tend to be available, you can pick up one that is closest in size and cut away a little of the outside. Be aware that not every door is suited for being cut, however, so always check with us if the door you are buying is able to be cut and sized. If not, you risk causing irreversible damage, so be prepared if you are planning on this.
Consider Your Desired Style
The good – or could be bad, depending on how you look at it! – thing about internal doors is that there are hundreds of different styles and colours out there to buy. The amount of choice can seem a little overwhelming, but it's a good thing in that it means you more often than not will be easily able to find a door in the kind of style you are looking for.
Doors of similar styles can be found for different prices too, so it's always worth looking through similar collections to see if there is a door that both looks how you want at a better price for you.
The very material that your doors are made from can give varying appearances to your room. For example, a choice of any door made from walnut if left with its natural finish would have the door becoming quite the focal point if placed somewhere light, given its darker natural colour.
On the other hand, if the same door was placed in a darker room, it would blend in perfectly without drawing too much attention to itself for an all-around finished look. 
Not only are you on the lookout for the material, but the decorative style of the door too! Did you know that doors can be classed in many different interior design style terms? For example, flush (flat-surfaced) doors are more at home in a contemporary themed home, whereas if you are looking at glazed panelled ones, these fit far better in homes that are more modern in style. They have their own characteristics that allows them to be able to be categorised in so many styles that there's always at least one to suit your individual design tastes.
Where are your doors placed?
An important question to ask is where your new or replacement internal doors will be going. Depending on this, you will have to consider which materials your doors are made from. For example, if you are looking for doors that are going to be placed in the bathroom, you will likely want doors that are solid panelled. You have a choice of either solid or hollow core for most internal doors too. Solid doors are a more expensive choice in the home but they are more durable in the long term and a lot better at soundproofing than hollow doors which, while cheaper and thus more affordable, do have less stability to them and let in considerably more noise. The Mayfair White Panel Door is a great example of a hollow internal door that is affordable and stylish – great for anyone just beginning to get into interior design. On the other hand, the Deanta Kensington Walnut interior door is a classic example of a solid core door that oozes with contemporary style and is great for the bolder homeowner. Personal preference really comes into play with how many options are out there, so be sure to look around at everything available.
Then there are glazed doors – and these are some that really shine in any home. The designs can be quite varied with a mix of any number of glass panels in an array of shapes and sizes depending on the style you are looking to purchase. You can find internal doors that have smaller glass panels or those that have one large panel surrounded by the rest of the door's frame. Both make great options and it really depends on where you want to place the doors! Clear glass panels are great for letting light in between rooms and hallways; for example, the living room door connecting through to a hallway. For areas you want to be more private but need some light coming through, there are frosted glass options too. Ask us which options are available in your favourite styles.
You will also have to consider whether or not the doors you are installing are required to be fire doors by law. This can often be overlooked in properties and it's always the most obvious thing – we don't tend to have 'fire door' printed above these at home like we do at work, after all. The simplest question to ask yourself would be to find out whether you live in a home that is more than two storeys high. If so, every room that leads to a stairwell has to be a fire door. This is for your own safety, and for those of anybody else sharing the building with you. If you are uncertain whether you need to choose fire doors or not, check here for more information. You can find a selection of fire doors available here at Shawfield Doors that don't compromise on style for safety. Our fire doors are as beautiful for your home as all our others. Get the peace of mind you need for your home.
Your doors can be purchased in various finished states. The way to tackle the question of which is right for you is to think about what you want to do when you buy your doors. Unfinished doors are an excellent choice for those who don't mind a little extra DIY work. These will need to have a coating of protective wood oil applied to ensure the wood is treated correctly to be able to withstand everything from water splashes to mucky handprints.
Without treatment, the wood is much more susceptible to damage and is more difficult to keep clean. It would be in your best interests to apply a coating of oil not only to protect the door, but to make it look even better! If you love the look of the natural wood grain on its own and are worried a finish will spoil this, don't fret: clear oil simply emphasises the textures when applied.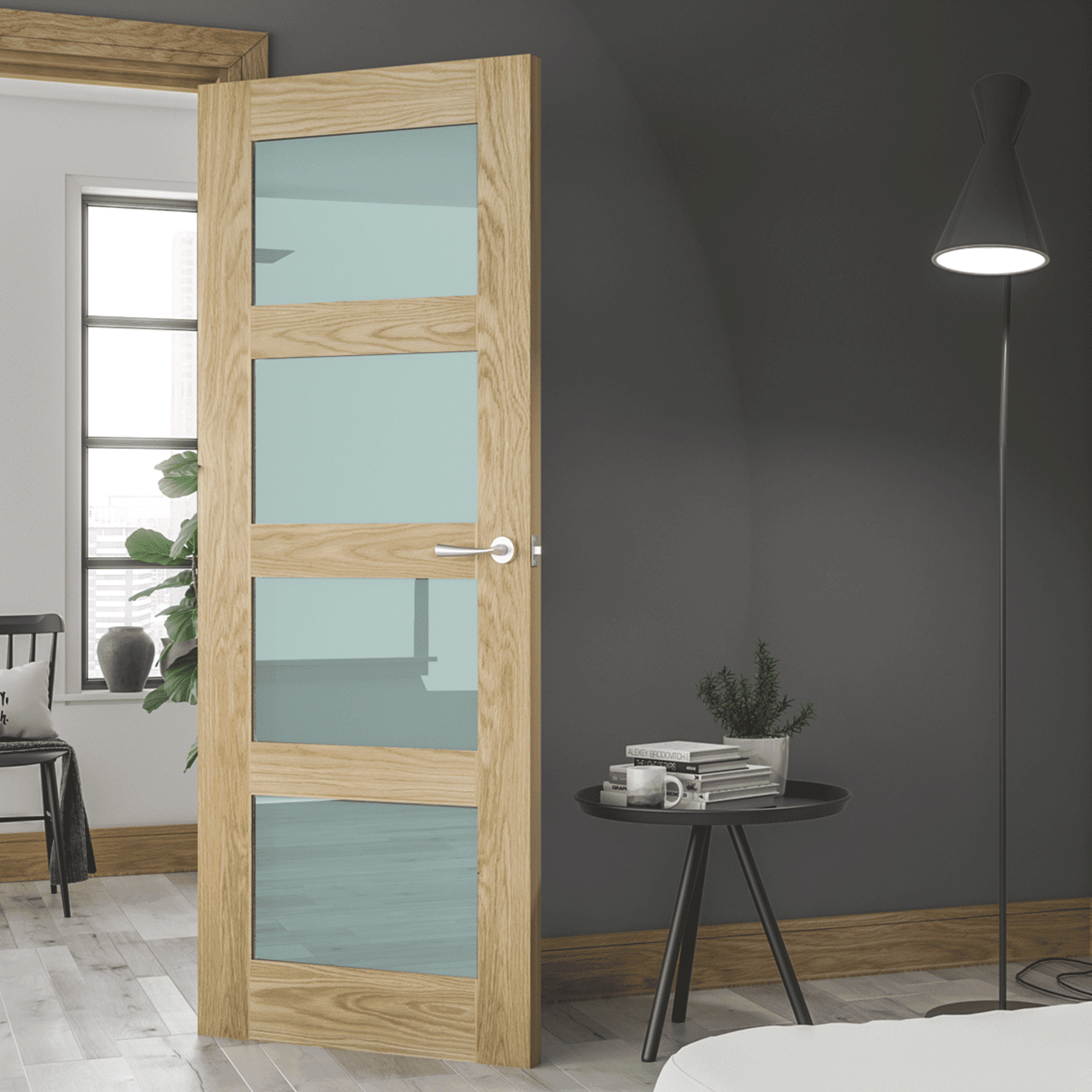 You can even find oils in darker tones to suit the style you are going for in your home. These doors do need this extra bit of care before they are able to be installed, but with this little bit of care, you'll surely have a door for life!
On the other hand, if you aren't one for paintbrushes or just prefer to buy all of your supplies ready-to-install, then a finished door may be the right choice. These doors have already been given the correct treatment and once purchased are immediately ready to be used. No waiting for anything to dry – simply unpack and go. Finished doors come in a whole range of options too. If you still want the natural wood look, you can purchase doors that retain this.
There are also doors that arrive pre-painted white, which are some of our most popular to date! White doors are as timeless as their woodgrain counterparts and fit in with just about any home. The advantage of purchasing these is that, with their finish already completed, you can either use the doors as-is or you can add your own coat of paint!
Furnishing for the Future
It's a great idea when considering which doors you want to buy if there are certain furnishings you plan on using. While it may not seem like anything important – most door handles and hinges go with any door, after all – it could still be a factor worth considering in the grand scheme of choosing your new doors. More often than not you may have an idea of the kind of handles you may want to use, and in your own eyes they may not suit a certain style of door that you have been considering. Being able to double check on the smaller features like this is essential for getting your doors right.
If you visit our Glasgow doors showroom, you'll be able to see our great range of doors available – and also a selection of fantastic handles. There is something much more useful and exciting about being able to hold up furnishings against a door before purchasing them, so if you can visit, we highly recommend it. (We would love to say hi, too!)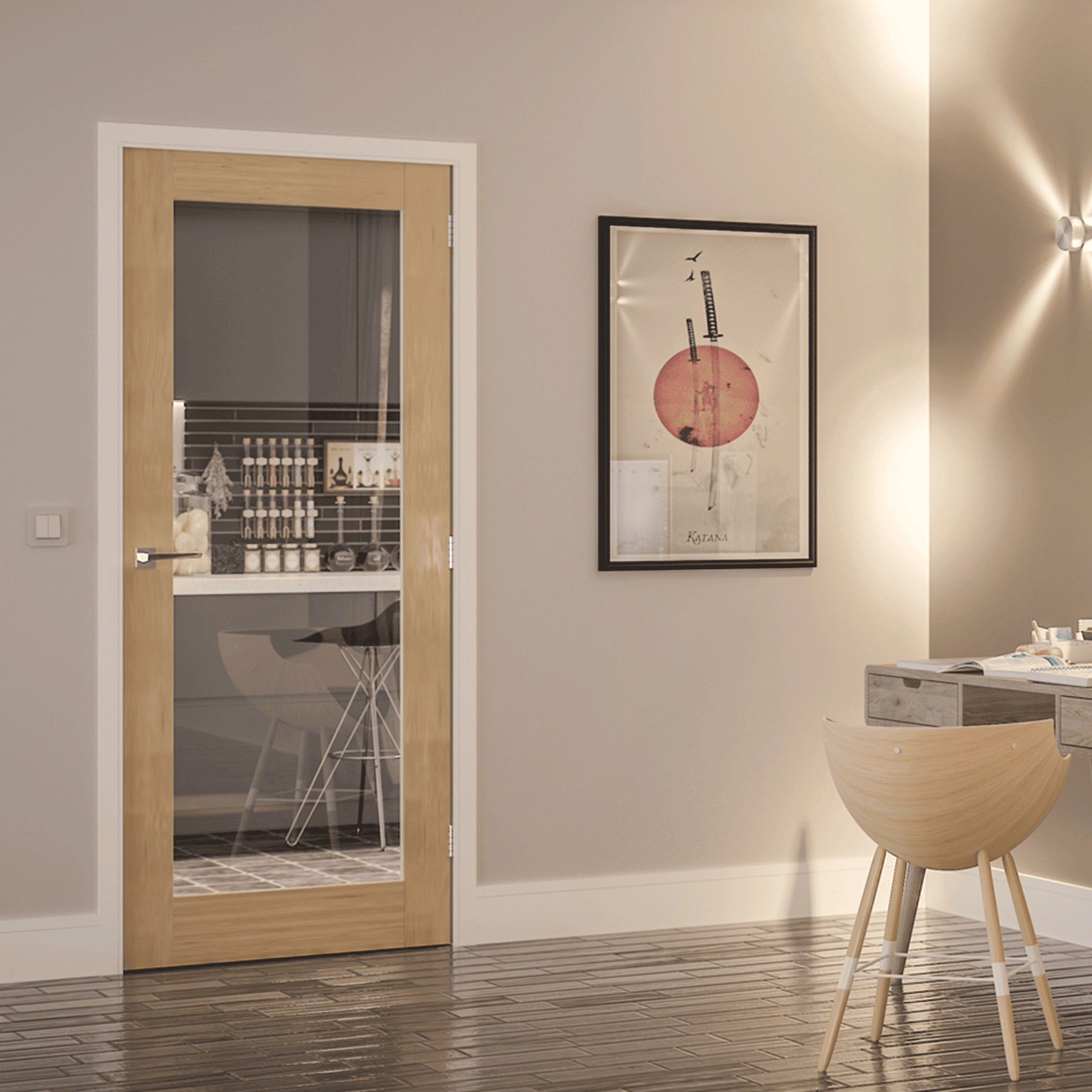 What makes a best-seller?
Lastly, and more as a tip to give you ideas than anything else, we would recommend looking at some of our best selling doors in our range. We often find that the most popular options tend to fit the most homes and are incredibly well suited for their intended purposes. Having a look at what other customers seem to be interested in buying could either help steer your decision-making by looking at what appears to be more 'in-style', or it could have the opposite effect if you want to buy a door that is much more unique and look at the least popular choices! 
Every door we stock is checked for its quality, so we are sure that each door available from us is of the quality you expect, even those that don't seem to be quite as popular. Sometimes it's the unexpected that prove to be our favourites.
Need more help? Ask the Glasgow Doors Experts
Hopefully everything we have covered should begin to help you on the way to choosing your own brand new internal doors. There's a number of factors to take into consideration, and we understand it can be more than a little confusing. If you have any more questions or simply would like more information about our great doors, why not drop us an email or call us? We would be happy to hear from you. Come along to our doors showroom in Glasgow to talk to us in person too!
Good luck choosing your new doors!