Fall For Our New Doors THis Valentine's Day
Get that warm, cosy feeling with our new ranges.
As we look outside, there is a blanket of snow covering Glasgow. It's a strange sight, but not one that is unwelcome – the walks through a snowy park are almost perfectly fitting for the season. That's right – Valentine's day is fast approaching – and we sure haven't forgotten about that. In this strange time for us all, having a day spent thinking of all things sweet and romantic is not such a bad thing after all. Showing a little love to your family this weekend may be just the thing you need for a pick-me-up you did not realise you needed until now. Be sure to treat yourself, too – and why not think about showing the house some love as well?
At Shawfield Doors, the Glasgow doors specialists,  we've picked out some wonderful new products that we think will really have your home looking wonderful during this romantic season. Kick up your feet from the snow with a cup of tea, and take a peek at what we have on offer. There is sure to be something to suit everyone's taste!
Even if you are not as invested in Valentine's Day as others, you can find many ways to get into the spirit of things. Working on your home may not initially seem like the right thing to do, but when do we ever celebrate the same way as everybody else?!
Before you consider buying yourself new doors, we're going to surprise you with another suggestion. Looking at your existing home, have you thought of adding decorations? You would be surprised what a few ornamental knicknacks can do to lift your mood, especially during seasonal intervals throughout the year. That cosy, happy feeling when the Christmas tree goes up? Why not recreate the feeling with a few themed items around the home for Valentine's day!
Even the simple act of adding little hearts here and there serve not only for brightening up the home, but your mood too. They don't need to be anything big – take this cute little silver heart for example – but when you notice them again? You can't help but smile. Don't rush into a new purchase and think what you can do to improve what you already have first. You may just surprise yourself.
A White Door For My Valentine
If buying a new internal door for your home is the route you'd prefer as you get your home looking much-loved in time for spring, we have quite the range for you! In the spirit of love, let's look at some of our doors that are not only a ray of sunshine, but are the perfect pure (you know, just like love!) white that fits in any home.
Take this gorgeous LPD white Downham glazed 9L door as a perfect example of one of our newest additions that looks stunning in this photograph. There is something about a room that provides just that little bit of extra light and warmth from both the bright white paint and clear glass panes that adds to the overall effect of a room. 
The major benefit of choosing a white door for sale? White goes with almost any other colour you can imagine. Whether it is this lovely olive green or even slate grey, a new, modern white door will fit in no matter where you place it. Go on – treat yourself!
The LPD white Downham glazed features 9 beautiful, clear glass panels and a primed white finish – ready to be painted and/or customised any way you wish. If you want to add a splash of colour, why not! Your home and your love of it are all your own. We'd love to see any new combinations you can think of, too.
Shine A Little Light On You
One thing that we always recommend for those new to any DIY projects is to assess what is truly necessary in the home. While our discussions of decorations are important on a smaller scale, if you are looking for truly room-changing additions, consider letting a little bit of love into the room in the form of light. Sure, a bit of candlelight is romantic, but nobody wants to live in a dull room 24/7. That is where adding a bit of brightness comes in. We have just the thing to help make a start on this with you.
A fine example of our obscure glazed range, and one of XL Joinery's beautiful additions to our offered range of internal doors here at Shawfield Doors in Glasgow.
The Messina Internal Oak Door has three perfectly balanced obscure glass panels set in vertical grain panels. Sold unfinished, it is perfect for a new project for anyone looking for a little more customisation. You can stain any unfinished door to not only protect the wood but bring out the natural woodgrain effect which can be further enhanced by a gloss, or you can choose to paint the door any colour of your choice.
This is not only perfect for homes that require a door to fit in that may not be needed to be entirely conventional. Want a yellow door or even pink? Go right ahead with the right paint! Coupled with the glass panels, you can really make your rooms shine.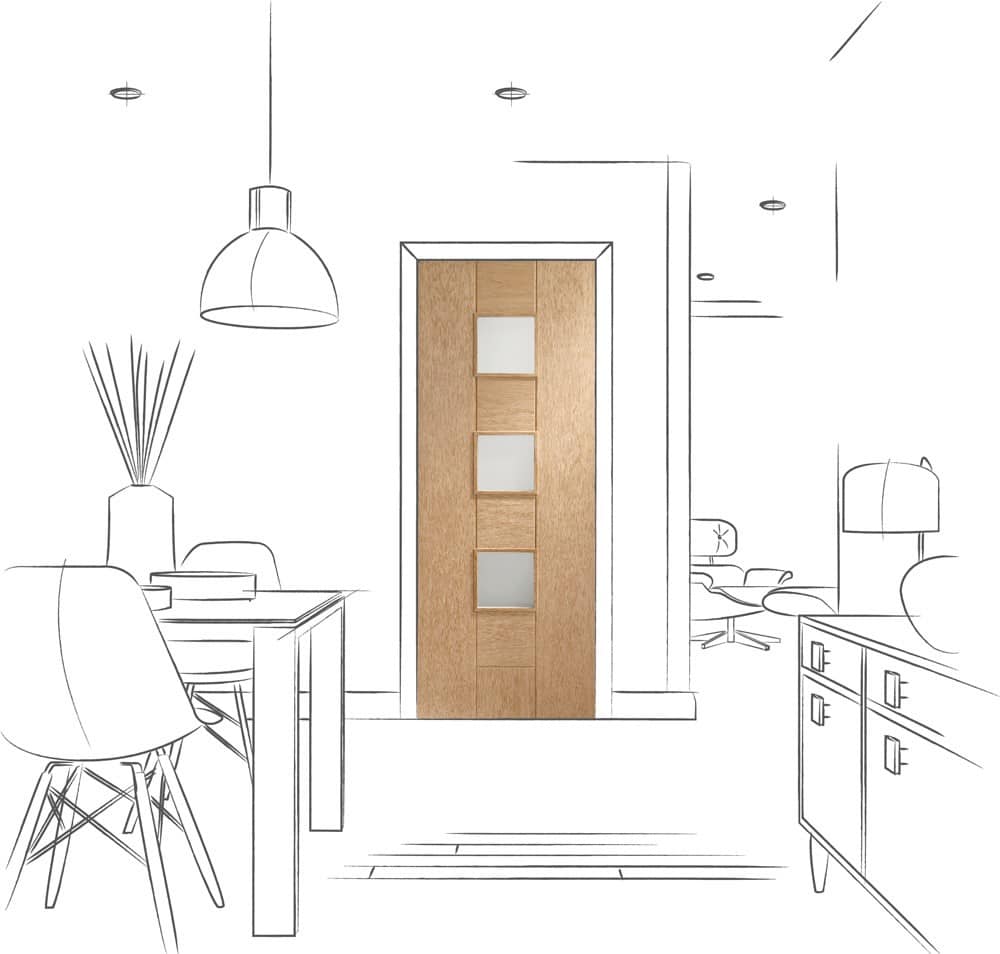 Slide Into A Room, NOT DMs!
It goes without saying that we hear the word 'slide' and that oh too familiar phrase pops up, particularly when we think of romance and a very familiar app… But instead of sliding into those DMs this Valentine's, how about sliding into your room in style with a sliding door kit?
(Was that a weak link? We tried!)
Where space is at a premium and your room is just that little bit cosy, why not consider installing the XL Joinery Pocket Door Kit for Partition Walls? They are the best way to make use of the space in your home, providing either a pathway to a little sanctuary of your own, or just as an easy way to avoid the hassle of hinged doors.
The possibilities are limitless and all your own – choose any flush XL Joinery internal door (that is not a fire door or has raised beading) and you can create a customised look for your room.
If that isn't showing a little love to the home, we don't know what is.
Above all this year – take care of yourself. It has been a difficult road into 2021, but if we stick things out just a little longer, normality may yet be back to us. We surely can't wait for then. Enjoy your Valentine's weekend, and think of some fun new DIY projects to get involved with. We know we will!
For assistance with your future doors, get in touch with your doors sales specialists at Shawfield Doors. Until the next blog!